Skip to Content
Straightening Atlanta Smiles with Invisalign®
Are you self-conscious about smiling because you wish you had straighter teeth? You're not alone, and it's never too late to seek help thanks to modern advancements made in orthodontics over the years. Perimeter North Dentistry proudly offers Invisalign® in our Atlanta office to help patients of all ages achieve straighter teeth without the use of bulky, awkward metal braces.
Invisalign® clear aligners make it possible for you to straighten your teeth invisibly so you don't have to ever feel self-conscious about your smile again. Thanks to computers, we can show you exactly how Invisalign® will adjust your teeth before you even begin wearing them!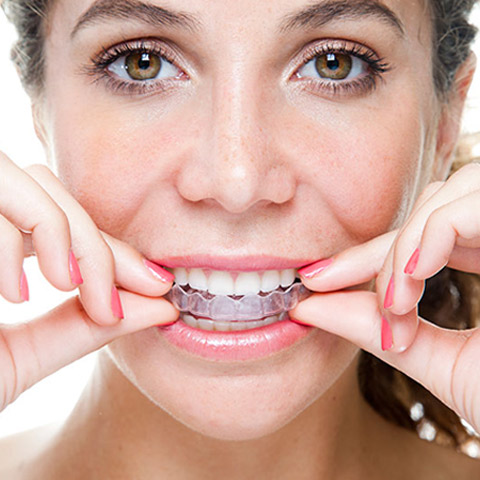 Invisalign® Offers Our Patients Many Benefits
Invisalign® offers our Atlanta area patients many benefits over traditional braces, including:
More Attractive – Let's face it. Traditional metal braces aren't the most attractive way to straighten your teeth. Invisalign® clear aligners are virtually unnoticeable!
More Comfortable – Food can easily get caught in metal braces, sometimes without you even noticing it! However, Invisalign® aligners are removable, meaning you can take them out when eating or drinking for better comfort. They also feel more comfortable on your teeth and gums.
More Convenient – Invisalign® can help straighten your teeth in as little as a year, which is a shorter, more convenient treatment time than traditional metal braces. They're also easier to care for than traditional braces – simply remove and brush them and then put them back in!
More Freedom – Because you can remove Invisalign® aligners, you're free to eat whatever you want, play a musical instrument or participate in sports without them holding you back from living life to the fullest!
Is Invisalign® Right for You? Find Out Today!
Are you interested in learning more about Invisalign® in our Atlanta office? While it may initially cost a little more than traditional metal braces, we think it's well worth the investment. Having straighter teeth offers many benefits aside from restoring your confidence. Straighter teeth usually result in improved oral hygiene, which can lead to healthier teeth and gums and fewer periodontal issues. Call Perimeter North Dentistry today to schedule a consultation to see if you'd be a good candidate for Invisalign®.
Get the Smile You've Always Wanted